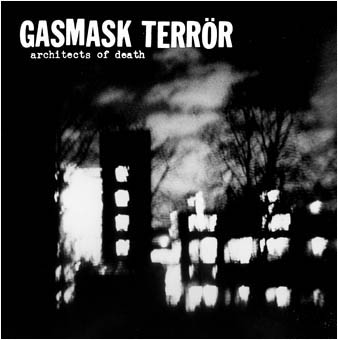 GASMASK TERRÖR

"Architects Of Death" 7"

6 new songs of raw crust-punk dealing with gentrification, legacy of sexism, war, burden of christianity & social death.
This record was made in collaboration with Marc from Flower Of Carnage (Japan). US punx, get copies through Solar Funeral.
Their previous LP is still available from Ratbone.

Please get in touch for wholesale, trades, etc... : wakeupanarchyrider (at) gmail (dot) com

Still available : RAINBOW OF DEATH s/t 10"




From May 23rd to June 3rd 2008, Gasmask Terrör will hit the USA for an Eastcoast/Midwest tour with
Black Dove
(ex-The Awakening). The band will have the 7" during the tour, as well as Black Dove will have their debut-12".
Here's the tour schedule (please check their website for regular updates) :
Fri. May 23 :: NYC, NY w/ ATAKKE, DAWN OF HUMANS @Passout Records. 5pm sharp! [-flyer-]
Fri. May 23 :: NYC, NY w/ DUSTHEADS @The Charleston. 10pm.
Sat. May 24 :: Philadelphia, PA w/ DISSYSTEMA @The Puppy Mill
Sun. May 25 :: Allentown, PA
Mon. May 26 :: Baltimore, MD MEMORIAL DAY MASSACRE FEST II @The Nowhere House 6 pm.
w/ PHOBIA, MAGRUDERGRIND, SKARP, XBRAINIAX, OAK, WARPRIEST
Tues. May 27 :: Boston, MA @The Ratcellar
Wed. May 28 :: Montréal, QC w/ PREYING HANDS @The Black Dot
Thurs. May 29 :: Syracuse, NY @Castle Rockmoore. 113 West Borden Ave Syracuse, NY 13205. 6:30 pm.
Fri. May 30 :: Pittsburgh, PA w/ AURYN, PROTESTANT @The Roboto Project
Sat. May 31 :: Detroit, MI w/ SHITFUCKER, NIGHTBRINGER @1737 W. Warren, Detroit, MI, 48208
Sun. June 1 :: Columbus, OH w/ VILE GASH @The Nude Ranch 376 E. 14th Ave. (in the back garage)
Mon. June 2 :: Cincinnati, OH w/ CREOSOTE @Blue Rock Tavern / 5th Amendment
(real website coming sooner or later...)